Joshua and Mary Ann Scott McElfresh married 12 March 1835 in Belmont Co. Ohio
They had eight children: Harriett Elizabeth, Adam Scott, William Avery, Sarah Jane, Mary Jane, Joshua Evan, Henry Alfred and Susan Alcinda.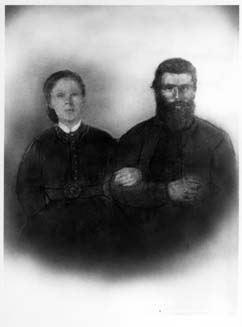 Adam Scott and Sarah Ann Wilson McElfresh pictured here on their wedding day 18 March 1860. They had five children: Joshua Wilson, William Grant, Thomas Everett, Harriett Elizabeth, and Mary Ann.

Joshua Wilson and Zimmie Carpenter McElfresh with their five
children: Sarah Ferne (front), Edgar Lawrence, Elma Louisa,
William Allen and Amanda Van Etta (back row). Pictured in 1907.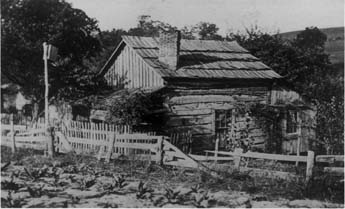 .
The McElfresh Cabin in Franklin Township, Monroe County, Ohio
All the above photos and information courtesy of John D. Ogden. His rights to the materials are reserved.