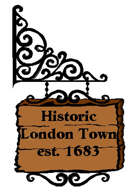 London Town was located 5 miles south of Annapolis, MD at 38 deg 56 min 00 sec North,76 deg 32 min 59 sec West. . It was established in 1683 as a tobacco inspection port and had a population of 300 in 1725.
There is now going on in London Town a singular effort to unearth the story of that town and the people there. David Mackelfreish is one of the earliest and more prominent citizens, having been a landholder, merchant, tavern owner and ferry operator there in the 1600s. There is a Macklefish (sic) Street there. The London Town Foundation, in cooperation with Anne Arundel County is conducting an archealogical/historical "dig". Their mission: "To research, explore, and teach Tidewater history through the story of the Lost Towns of Anne Arundel. The Foundation will preserve its historic, archaelogical, and horticultural components to the highest standard . . ." In short, the Lost Towns project will unearth the old building sites of London Town, reconstruct some of them, glean artifacts and develop the historical context of the origins of the Town and its people, including our David Mackelfreish. They have already identified and marked his house, the ferry landing, a tavern, carpenter shop and all sorts of pottery, glass, buttons, pipes, and other artifacts and are beginning to compile historical information about the development of the Town. They will be publishing a "local history study" pamphlet soon under the auspices of the Maryland State Archives. (Similar works have been done on Annapolis and Anne Arundel County and are for sale by the Foundation.)They also have a vision to reconstruct the Town as a "Williamsburg" type historical exhibit. Their address is London Town Publik House and Gardens, 839 London Town Road, Edgewater, MD 21037-2120. Membership is $25.00/year. Email: londontwn@clark.net
Phone: 410-222-1919
Submitted by Bob O'Neal
Click here to visit the Historic London Town site.